Happy, Mother?
Santa delivered early this year:
It says "Peace" then "Love" and then "Hope." Which is traditionally how I sign most of my emails... "peace, love & hope for a cure."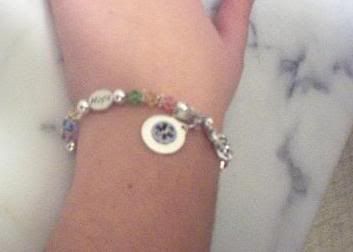 I had the hardest time taking pictures that came out clearly. I took about 30. These were the best two. I'm a lousy photographer. I stick with words to paint my pictures.
I bought this bracelet at
Creative Medical ID
.
This
is a much better quality picture. But it doesn't have the same words as mine. Great website, lots of cute beaded bracelets to choose from. It was a really hard choice. I actually chose another one, but then I was talking to the woman who designed it about what I was looking for and she showed me this one.
I really like it. Which means I will (most likely) wear it. Which means if anything ever happens to me, the EMTs will (probably) be able to look at my cute little bracelet and find out what's wrong. Which will (almost certainly) save my life.
So to all my "mothers," "uncles," "big sisters" and East Coast "dad": are you happy now?